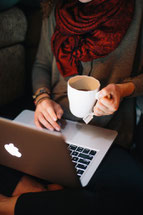 Question: As a Sales Person or Sales Manager, what is the best way to become comfortable accessing the C-Suite?
Answer: You'll Never Guess What was Handed to Me on a Silver Platter…
(More)
Answer:
Or should I say 'who' was handed to me on a silver platter?  Yes, you heard me correctly, executive relationships literally fell into my lap throughout my selling career.  How is that possible when accessing senior leaders is one of the most daunting and challenging tasks for sales people?  Read on to learn how my story can also be your story.
When I was in my twenties and an Account Manager for Xerox Corporation in Oakland, CA I had customers like Clorox who were part of the national accounts program.  This program came equipped with key executives at Xerox to match up with Clorox executives and I was ushered into the executive suite alongside of the real executives.  I was honored and paid close attention.
As a young sales manager in the heart of the Silicon Valley during the time that Xerox was famous for winning the Malcom Baldridge Quality Award, executives were knocking down our doors to learn more about Kaizen, leadership through quality, problem solving and benchmarking. As a sales leader we capitalized on their interest by hosting events and coordinating high level meetings with executives from top bay area companies such as Intel and Hewlett-Packard.  It was incredible and I was young enough to assume that it was also normal.
Later, as a new and true executive leader with Xerox in the Pacific Northwest, many board opportunities came my way.  When I joined the Portland State University Foundation board I was surrounded by over 30 of the top leaders in the region. I felt very comfortable within the group and went on to stay on the board for seven years, most of those years on the executive committee.
I could go on but all of this is so say is that executive relationships are accessible to sales people with an eye towards resource utilization and capitalizing on the opportunities that come your way.  My story can be your story.  Reach out and grab that silver platter and you'll gain the confidence of knowing that you can be comfortable interacting within every level of your customer's and prospect's organization.
If you want to access some great free resources on this topic and others, visit www.toplinesales